Closed type single point press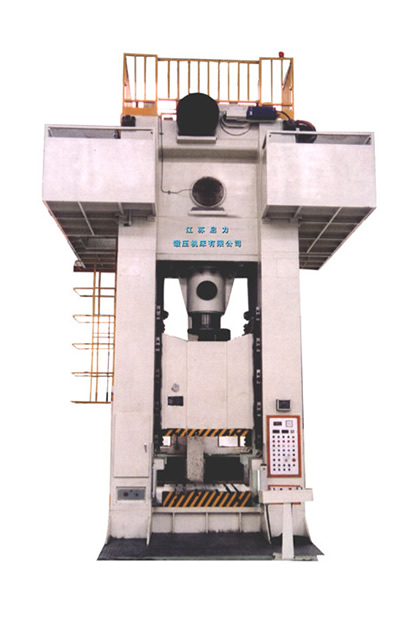 Product use:
As highly general stamping equipment, closed type single point press is capable of forging, blanking, forming, bending, shallow drawing and other processing, widely used in automobile, tractor, ship, agricultural machinery, light industrial machinery, electrical, motor, instrument, aviation, weaponry and other industries.
Product features:
The overall structure of machine tool is frame-type with good rigidity. Tetrahedral guide rail is used for the sliding block with good guiding precision, and the siding block is equipped with thick oil pad to protect the machine tool against damage under overload. Electronically controlled lubrication is used for thick motor oil, and the sliding block is set with upper ramming mix. This series of machine tools are characterized by advanced structure, reasonable design and convenient operation.
Working specification:
1. Single stroke
2. Continuous stroke
3. Inch stroke

Main technical parameters

| Item | Unit | JA31-160C | JB31-200 | JC31-250 |
| --- | --- | --- | --- | --- |
| Nominal Pressure | KN | 1600 | 2000 | 2500 |
| Nominal Pressure Stroke | mm | 8 | 8 | 10 |
| Stroke of Slide | mm | 160 | 180 | 200 |
| Stroke Perminute | min-1 | 32 | 32 | 28 |
| Max Die Set Height | mm | 385 | 400 | 460 |
| Die Set Height Adjustment | mm | 140 | 160 | 160 |
| Slide Bottom Face Dimension (FB*LR) | mm | 560*510 | 560*510 | 700*670 |
| Bloster Dimension (FB*LR) | mm | 790*710 | 800*750 | 900*850 |
| Thickness of Bolster | mm | 105 | 115 | 120 |
| Power of Main Motor | Kw | 11 | 15 | 22 |
| Overall Dimension (FB*LR*height about floor) | mm | 1625*2350*4210 | 1625*2350*4210 | 2660*2740*4763 |
| Weight of Machine | Kg | 13000 | 15000 | 19200 |
Main technical parameters

| Item | Unit | JB31-300 | JA31-350 | JA31-400A | JS31-500 |
| --- | --- | --- | --- | --- | --- |
| Nominal Pressure | KN | 3000 | 3500 | 4000 | 5000 |
| Nominal Pressure Stroke | mm | 10 | 13 | 13 | 15 |
| Stroke of Slide | mm | 220 | 240 | 250 | 250 |
| Stroke Perminute | min-1 | 28 | 26 | 25 | 25 |
| Max Die Set Height | mm | 500 | 500 | 530 | 530 |
| Die Set Height Adjustment | mm | 180 | 180 | 160 | 165 |
| Slide Bottom Face Dimension (FB*LR) | mm | 700*700 | 750*750 | 810*810 | 810*810 |
| Bloster Dimension (FB*LR) | mm | 900*900 | 950*950 | 1060*990 | 1060*990 |
| Thickness of Bolster | mm | 125 | 130 | 150 | 180 |
| Power of Main Motor | Kw | 30 | 30 | 30 | 45 |
| Overall Dimension (FB*LR*height about floor) | mm | 2340*2640*4970 | 2730*2880*5306 | 3100*3120*5948 | 3750*3160*6080 |
| Weight of Machine | Kg | 25000 | 29000 | 38000 | 42500 |