Vertical multi-link toggle cold(warm) extrusion press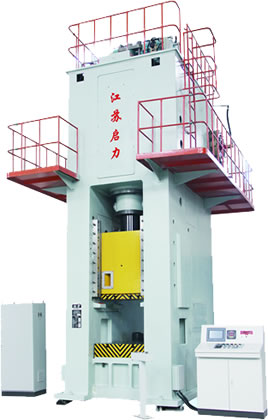 Product use:
Vertical multi-link toggle cold(warm) extrusion press is applicable to cold-extrusion or warm-extrusion forming of metal blank.
Product performance features:
1. Toggle mechanical motion mechanism with multiple connecting rods. This mechanism is equipped with large extrusion stroke, 25-80mm; nominal pressure stroke is relatively long, 20-48mm.
2. The speed of sliding block gradually slows down in nominal pressure stroke to reduce speed of die contacting with workpiece and increase service life of the die.
3. Extrusion force of die contacting with workpiece will keep increasing and reach about 1.5 times of normal force at bottom stop (commonly known as force increasing press) with dwell time of 0.35s to ensure plastic deformation of metal blank in cold extrusion and reduce deformation resilience in discharging of products subject to extrusion forming to make the grain structure of products more compact.
4. The sliding block and swing link are connected with structure of guide pin and guide sleeve to reduce lateral force; shape and strength of relevant components is adjusted through finite element analysis to increase rigidity of the body; high-precision processing technology is used for main parts; transmission countershaft adopts thin oil forced-lubrication technology, with high precision of machine tool.
5. High slip variable-frequency and variable-speed motor is equipped; with high energy-storing wedge-shaped belt flywheel, the machine is adaptable to extrusion of ferrous metal with powerful driving force.
6. Speed and grade of working strokes per minute is different to meet requirements for extrusion forming of different products, and powerful upper/lower ejector device of high strength is designed for convenient ejection of products.

Main technical parameters

| Item | Unit | Value(JA89-250) | Value(JA89-630) | Value(JA89-1250) |
| --- | --- | --- | --- | --- |
| Nominal Pressure | KN | 2500 | 6300 | 12500 |
| Nominal Pressure Stroke | mm | 16 | 38 | 58 |
| Extrusion Stroke | mm | 25 | 50 | 68 |
| Stroke of Slide | mm | 340 | 420 | 520 |
| Stroke Perminute | min-1 | 36 | 28 | 15-24 |
| Max Die Set Height | mm | 500 | 800 | 1000 |
| Die Set Height Adjustment | mm | 15 | 15 | 15 |
| Slide Bottom Face Dimension (FB*LR) | mm | 700*700 | 900*900 | 1250*1000 |
| Bloster Dimension (FB*LR) | mm | 900*850 | 1050*1050 | 1250*1000 |
| Thickness of Bolster | mm | 160 | 350 | 300 |
| Power of Main Motor | Kw | 37 | 90 | 132 |
| Upward Ejection Pressure | KN | 125 | 320 | 500 |
| Upward Ejection Stroke | mm | 35 | 70 | 75 |
| Downward Ejection Pressure | KN | 250 | 630 | 1250 |
| Downward Ejection Stroke | mm | 60 | 160 | 180 |